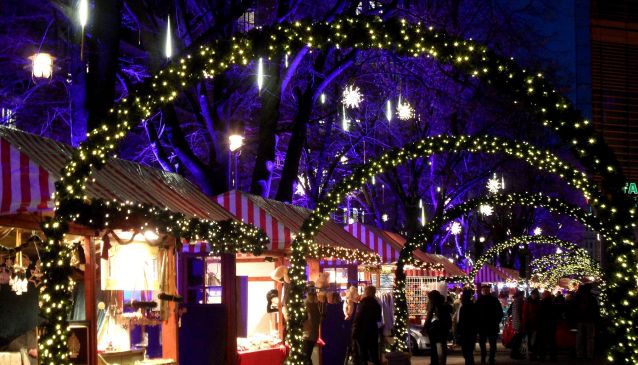 Christmas Markets
Family Fun
The Christmas markets in Berlin will turn even the most hardened Grinch.
Growing up in Australia, Christmas for me meant 35°C days, playing under the sprinkler in the backyard and eating cold meat and salad for lunch. As a child it was a glorious time but as I grew older I started to notice more and more the conflicts between the symbols of the traditional European Christmas we had inherited and the Australian climate: Santa sweating in his fur fringed coat and hat, the fake snow and snowflakes on the shop windows, and the pine Christmas tree adorned with snowmen, reindeer and other wintery symbols.
The first time I experienced Christmas in Germany, I had a light bulb moment. This is what we southern hemisphere dwellers are attempting to replicate. It was as if the Christmas dial, which had always been set at six (nice, but with something missing), had been turned all the way to eleven... and I loved it.
One of the greatest things about Christmas in Germany is the Weihnachtsmarkt, or Christmas Market and Berlin has some of the best in the land!
Throughout December, squares, courtyards, laneways and even museums come alive with Christmas spirit as little Christmas villages of wooden huts are erected. Huddled together these huts offer everything from hand made tree ornaments, to gifts and for me the most important item of all…delicious food.
Over the Christmas period more than 60 Christmas markets will operate in Berlin! Some will be open for the whole season, from the 25th of November till the 24th of December, others, only for a weekend. A few of them even open until the end of December to help with the post Christmas Blues. What is fascinating is that each market has its own individual theme, flavour and style. Some are grand affairs, others are low key with a more local flavour. Each market offers a different array of traditional gastronomic delights to fill your belly. The only thing that they all do….Glühwein. Thousands of litres of this hot, spiced wine are served in markets across Berlin every day – and there is nothing quite like a steaming mug of Glühwein to warm you up inside and out!
Here is a list of a few of my favourite Christmas markets in Berlin, for a more comprehensive list check out the
Christmas Markets
list under our Things To Do page.
A list of the top Christmas markets in Berlin wouldn't be complete without the market at the Charlottenburg Palace, in the Berlin district of Charlottenburg. Every year over 250 stands from around the world setting up in the beautiful palace courtyard as well as the surrounding gardens. Highlights are definitely the light display that is projected on the palace and throughout the gardens, as well as the amazing culinary treats on offer.
With its 30m tall Ferris Wheel and ice-skating ring circling the famous Neptunbrunnen, the Christmas market in front of the Red Town Hall at Alexanderplatz in Mitte is a favourite of families and young people. You will also find a wide selection of traditional Christmas food and drink including baked apples, pan fried mushrooms, Langosch and the even popular Glühwein.
Image: Michael Krolop
The courtyards of the Kulturbrauerei in the district of Prenzlauer Berg are a great backdrop to this Christmas market. At this Scandinavian Christmas market around 30 stallholders offer everything from spiced hot apple wine to handcrafts. The market is less crowded than many of the many of the others, allowing you a bit more room to enjoy your Glühwein.
See our video on the Lucia Weihnachtsmarkt here.
Image: Jochen Loch
The Gendarmenmarkt provides the backdrop to one of the most picturesque Christmas markets in Berlin Mitte. Featuring handcrafts, visual art, photography, and sculpture as well as a wide selection of scrumptious cuisine. Particularly on the weekend this market is very busy and is probably best avoided if you don't like crowds. Weihnachtsmarkt am Gendarmenmarkt.
Image: Vinay Deep
This is the perfect event for anyone who is getting a little tired of all the Christmas spirit but still needs to buy a couple of interesting gifts. Held on the weekend of the 6th and 7th of December, this is a great art and design market for those looking to pick up a unique and interesting gift. 200 hand picked local designers and artists present a wild mix of fashion, jewellery, comics, literature, photography, art and graphics. This is the 10th year of
Holy.Shit.Shopping.
and it's really worth a visit. Glühwein in hand, wander through their new venue at Kraftwerk Berlin, as Berliner DJ's play some tunes and yo pick up some great gifts.
Tip your hats to
Holy Heimat
for a great job on a family Christmas market combined with a bunch of other cool stuff for grown ups. An ice skating rink and various children's activities will keep them busy while the adults chill to some live music and performances.
Of course there's some street food and spiced wine to enjoy whilst you take in the urban surroundings of Neue Heimat in Friedrichshain.
PUBLISHED: Dec 2nd 2013 | UPDATED: Jan 16th 2018