Live Escape Games in Berlin
Adventure
Only by working together will you have a hope of getting out of the room alive....
The sensation that has been sweeping the world has hit Berlin with eight live escape games opening their doors in the last 6 months.  If you have no idea what I am talking about, you are not alone! Until a few weeks ago, I too was an escape game virgin.... But lets just say my cherry has been well and truly popped!
Live escape games, also known as room escape games, real escape games, or exit games, are a relatively new phenomenon. The inspiration comes from the world of computer games, chiefly, point and click adventure games like Monkey Island or 100 doors (a game for smartphone and tablet).  The basic premise is that you are locked in a room and have 60 minutes to escape. To do so you will have to scour the room for clues, combine various elements and solve a number of puzzles, eventually leading you your release...  If you like detective stories, TV shows like the CSI, or playing puzzles, computer games or board games then you should definitely try out a live escape game.
I don't want to give too much away, because that would ruin the experience.  Part of the fun (particularly with your first game) is not knowing exactly what to expect, so forgive me if I am a little vague on the details...Trust me, it's for your own good, and believe me when I tell you that this is one of the best ways I have ever spent an hour of my time. One of the best things about the experience is that it is a team game. Only by working together will you have a hope of getting out of the room alive.... just kidding, if the time runs out the game master will open the door and let you out.  The game will lead you on a merry rollercoaster of emotions, with moments of utter frustration dissolving into fist pumps and screeches of delight as a solution suddenly becomes clear, and, although I am not the high fiving type, lets just say that my palms were still stinging an hour after we diffused our first bomb!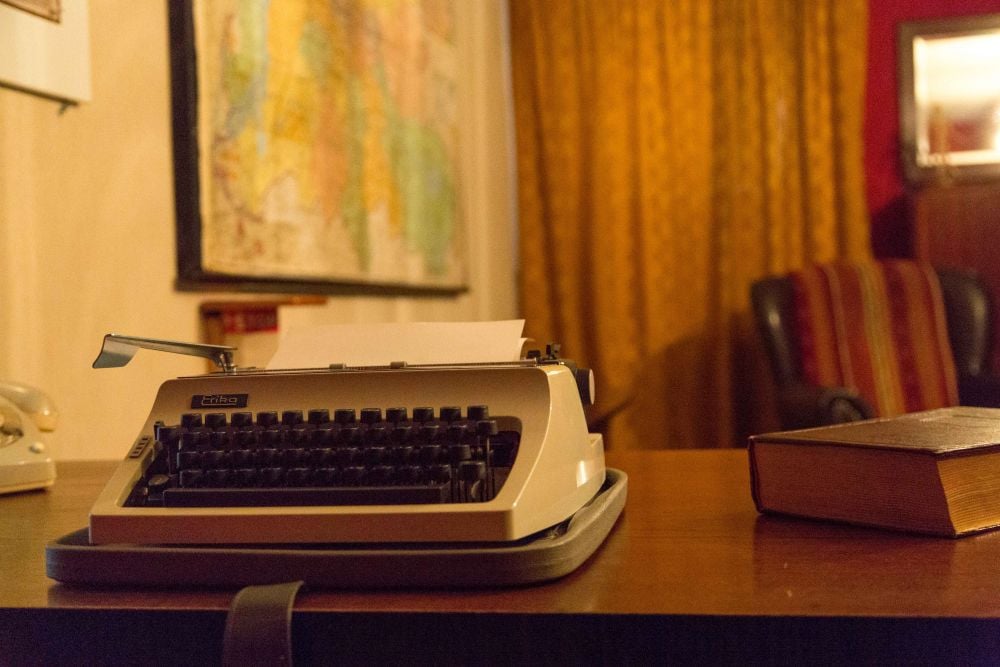 Before my first live escape game I didn't really know what to expect.  I certainly didn't expect to be so immersed in the experience, or that my adrenaline would be pumping so hard as the time ticked down. After that first game we grabbed some beers and spent the next few hours "debriefing" reliving an experience that was as exciting as it was unique.  At the time, it was the only game in Berlin, so I wasn't sure if or when I'd get another chance to play.  Well - you can picture my cheshire cat sized grin when I learned that another 4 had opened in last last few months while I wasn't looking!
It is only a month since I made that delightful discovery and I have now played at each of the locations in Berlin... beware, it is more addictive than cocaine! The staff at each of the locations are really friendly, helpful, genuinely enthusiastic and excited about the concept and were keen to get our feedback after playing. During the game, a "game master" follows your progress by camera and microphone and will give hints if they see you stuck on a particular puzzle or wasting your time on something that isn't part of the game. Across the board, the clues given were really good, and were given as gentle nudges in the right direction rather than overt solutions.
I played each game with a different group of people who had no previous room escape game experience.  This gave me some good insights into the difficulty as well as the overall experience from a beginners perspective. I am a bit surprised, but also very happy to say that each game we played offered such a unique, challenging and immersive experience that I would happily recommend any one of them. No matter which game you decide on, I am sure you will have a great time, and I wouldn't be at all surprised if you end up playing more than one!
Read on for my thoughts on each of the live escape games we played and click on their link to find out more information.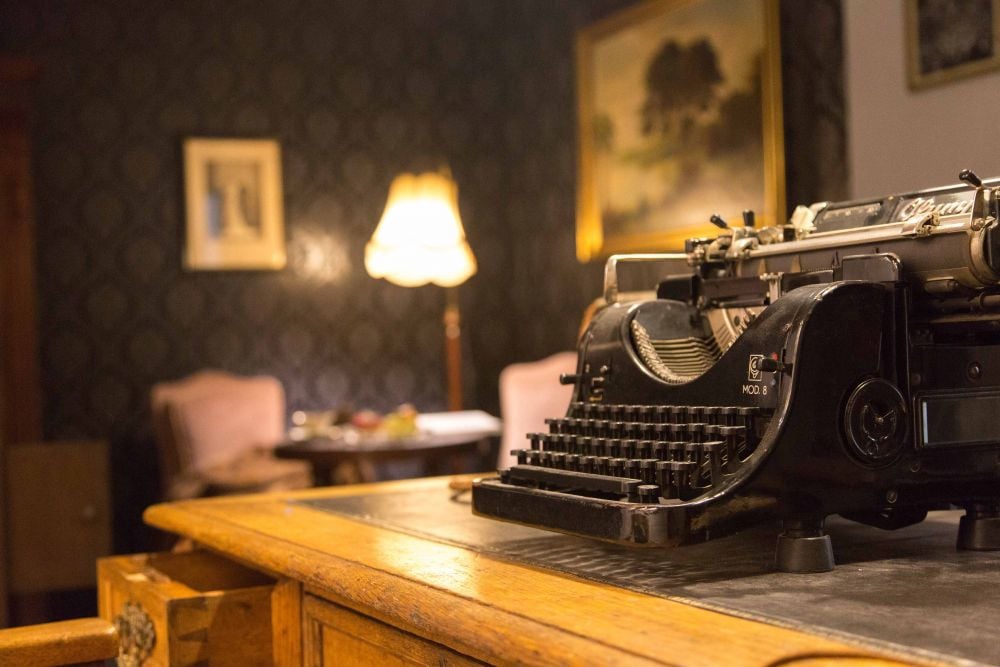 The Room – Live Escape Game Berlin
Lichtenberg Missions played:  The Beast of Berlin (Difficulty Level 5/5)                              Go West (Difficulty 3/5) Price: from 66€ for a team of 2 to 99€ for a team of 5
More Info
The Room offers Berlin's most lavish and impressive room escape experience. Set in the in the office of Chief Inspector Ernst Gannat in1920s Berlin the level of detail as well as great historical touches take this game to the next level. A great variety of puzzles presented some really challenging moments – we needed quite a few hints and were halfway through the last puzzle when we ran out of time! At every step of the way we were impressed with the quality of the build and furnishings as well as the soundtrack, composed especially for the game. This is a game that has been designed and built by an experienced and passionate team that have succeeded in creating something truly remarkable. They also have a second room, "Go West" where you get to escape from East Berlin which is every bit as exciting as it sounds!
Exit Berlin – Live Escape Game
Mitte
 (a short walk from Alexanderplatz) Game Played: Madhous Price: 59 € for a team of 2 to 129 € for a team of 8
More info
Exit, located in an original GDR bunker, definitely has the coolest live escape game location in Berlin. The bunker adds a lot to the atmosphere of the games and lends the whole experience and extra sense of excitement. Exit is the perfect choice for larger groups, parties, or company events, and have a large space perfect for groups, complete with poker table! They also offer one of their games, "Secret Prison" in battle mode: the have 2 identical versions of the game, so you can play head to head with another team and see who gets out first. "Madhouse", the game we played, is definitely one of the best games in Berlin with some great puzzles, and more than a few surprises (you'll have to find out for yourself what they are). The game is quite difficult, particularly for first timers, so I suggest if it is your first escape game experience, that you start with Hackers Home as a warm up.
Questory
Kreuzberg
Game Played: The Assassin (Difficulty 4/5) Price: 60 € per team (2-6 Players)
More Info
Set in West Berlin in 1963, in Questory's "The Assassin" we had to pick up the trail of a would be assassin and stop him before he carried out his dastardly plot (cue: evil laugh). The game is really nicely set up in 60's décor, and has some great puzzles.  A cool touch are the trench coats and hats on the coat rack if you feel like getting into costume.   A couple of the puzzles are pretty damn difficult and we needed quite a few prods in the right direction from our game master before we successfully completed the mission. Being a bit of a Cold War nerd I particularly enjoyed the historical details and the soundscape which accompanies the game provides a great atmosphere as well as a good amount of historical context. We are looking forward to checking out their second game which is currently in the planning stage and should be playable from early 2015.
Hipster Escape Party
Friedrichshain Difficulty Level 4/5 Price: 20 € per person (Teams of 2-8 Players)
More Info
Hipster Escape Party is an interesting and original take on the room escape game. Instead of countering spies, bombs, and evil villains, you and your team "wake up" to find yourself locked in an apartment on the morning after an epic house party. You have 60 minutes to find the key and escape the scene before the owner gets home. This game proved quite challenging, with our team escaping with only 5 minutes to spare. Hipster Escape Party is one of the largest games in Berlin and I would recommend playing with a team of 4 to 6 for the best experience. The puzzles were logical, creative and challenging and the game master was great, providing only a little nudge in the right direction when it was absolutely necessary.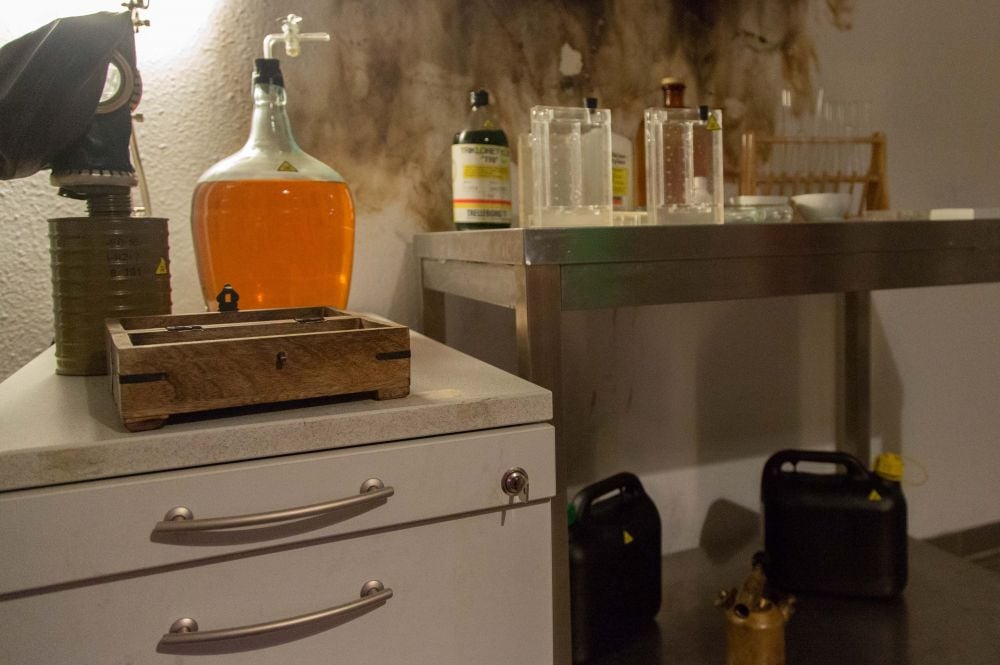 Mission Accepted
Mitte
Price: from 59 € for a team of 2 to 95 € for a team of 5 Difficulty Level: 3/5
More Info
In this mission you begin in the office of an employee of Germany's Federal Intelligence Services, the Bundesnachrichtendienst (BND).  The BND is actually located across the road from the game, so it gives the game an added dose of realism.  The puzzles have been well thought out and game has a nice pace and logic to it – we got through it with only 3 minutes to spare!  One thing I liked is that they can alter the game slightly depending on the size of the group, which means that it will still provide a challenge whether you are 2 or 5 players.  The game master was great and only gave us a nudge in the right direction when absolutely necessary.
Escape Zone Berlin
M
itte
Game Played: The Dictator Room (Difficulty 3.5/5) Other Games:  Emergency Room Price: from 69 € for a team of two to 99 € for a team of 6
More Info
Escape Zone Berlin's Dictator Room offers an exciting room escape experience.  An evil dictator is planning on blowing up the city as his grasp of power begins to falter.  For some reason he has decided to leave his office for exactly 60 minutes, leaving you and your team an opportunity to save the city.  This is a fun, exciting game with top quality construction and furnishings.  Most importantly, the puzzles are interesting and creative, with a few fantastic "ahhh SNAP" moments (which you will have to play yourself to discover...no spoilers here).  They also have a second room "The Emergency Room", a medical themed escape in which you will need to save a critically ill patient.  Escape Zone is really conveniently located in Nikolaiviertel, just a short walk from Alexanderplatz.
Make a Break
Friedrichshain Price: from 50 € for a team of 2 to 96 € for a team of 6 Difficulty Level: 2.5/5
More Info
As a fan of Berlin history I love that they have taken this iconic moment in history as the basis for the game. The story is immersive and the décor, although somewhat elementary, creates a great atmosphere for some cold war espionage! The puzzles were logical and intriguing, with a good balance between simpler puzzles and ones that required a bit more brain power. The mission "Tear Down This Wall" is set on the 9th of November 1989: your team has been tasked by the West German secret service to broadcast fake commands to the guards, ordering them to open the border crossings. Although it still presents a challenge for experienced escape artists, I would really recommend it as a great game for first timers. They currently have another 2 games in development which should be opening in the coming months... something I am very excited about.
Team Escape Berlin
Kreuzberg
Game Played: Mr Nobody's First Case (Difficulty: 3/5) Price: from 71 € for a team of 2  to 110 € for a team of 6. 
More Info
In this game by Team Escape Berlin we had to find out what had happened to the missing journalist "Mr Nobody". Before the game we were told that the success rate for that week was around 60%, which filled me with a mixture of nervousness and determination. Perhaps because of the extra motivation, we were on fire, and completed the mission in around 46 mins. The game is well designed and built and we all thoroughly enjoyed the experience, in particular the flow and complex but logical through-line of the puzzles. There were a couple of moments that we particularly enjoyed, but I'll leave you to discover them for yourself and there are some nice Berlin specific details in the story line which I appreciated.  Team Escape also have a second room "The State Secret" which I am looking forward to playing sometime soon as well as games in Cologne and Düsseldorf.
TRAP - Team Race Against Puzzles
Friedrichshain (Cafe Szimpla) Price:  50 € per team (2-5 People)
More info
TRAP is sort of the little brother of the Berlin escape game scene, although was actually the first to set up in Berlin.  It was also the first Escape Game that I played and as such left very good impression.  Rather than being a purpose built room, the game takes place in the back room of a cafe. The puzzles are located in a series of wooden military boxes, and were designed as a portable game that could be taken to festivals or events. At first we were a little skeptical as the atmosphere is pretty lacking, but as soon as the counter started ticking down we immediately set to work and became just as intent in solving the puzzles as we did with the more elaborate games. The puzzles are complex and one in particular had us really stumped until we had one of those "lightbulb moments". This is a good game if you are looking to challenge your brain a little and don't mind a lack of props, or detailed storyline.