Gay Berlin
Inspiration
This city is infectious -- there's an incredible energy and atmosphere here that's hard to describe.
Our Top Experiences and Tours in Berlin:
If youʻre booking your trip to Berlin last minute, we have you covered. Below are some of the top tours and experiences!

Berlin is often touted as one of the world's best LGBT destinations.  It doesn't much matter which guide, blog or website you consult, you are bound to find a travel writer singing its praises and extolling the virtues of Berlin's liberal attitude, its non stop parties, or its epic festivals.

 

Full disclosure time: I'm not gay, and to be honest hadn't really thought much about what had to offer LGBT travellers in much detail until we had a few friends ask us where they should go for a drink.  I hit all the usual travel and LGBT websites to try to find some places to recommend as well as try to get a sense of what it is about Berlin that appeals to the LGBT traveller.  Although there are obviously some differences in the bars and clubs that are suggested, what I came to realise is that the answer is pretty much the same thing that draws gay tourists as everyone else...

 

Basically, Berlin is a city where you can be yourself, without apology or judgment, or even really attracting any attention.  With such an array of cultures and sub-cultures living side by side it doesn't matter what your niche, fetish, scene, or style is, there is somewhere here where you can feel at home.  As I did my research, it became increasingly apparent that I needed to consult with someone who knew what they were talking about.  So, instead of just regurgitating what all the other guides were saying about Berlin's gay scene we decided to enlist the help of Adam Groffman.

 

Adam is a travel blogger who writes a hipster travel blog which is popular with the Gay community and he has a great page about

everything you need to know about Gay Berlin

. Now residing in NYC he spent a few years living and working from Berlin, so I figured he would just the person we needed to get an insider's perspective on Gay Berlin.  He has plenty of tips for visitors, both gay and straight.  I decided it would be fun to make him pick his top 5 Berlin locations and also had a chat with him about why he thinks Berlin is such a magnet to the LGBT community.

Image supplied by

travelsofadam.com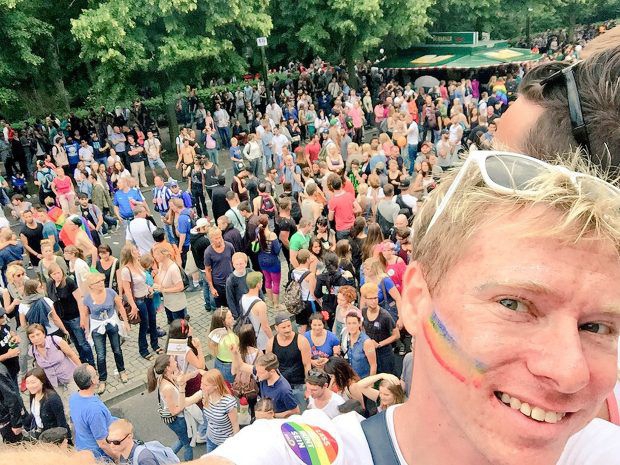 Adam at CSD, Image supplied by
travelsofadam.com
Hi Adam, thanks for helping us out with a locals perspective on Berlin's Gay scene... Berlin is often touted as the Gay Capital of Europe. Is that true?

MyDBerlin
Adam:  Berlin's LGBT scene is certainly a big part of day-to-day life in Berlin and I think because of the city's friendly spirit, Berlin makes for a great gay destination. The city is so much more than just the historical "gayborhood" of Schöneberg - gay bars, clubs and events are everywhere here!
MyDBerlin: Is it worth coming for Berlin's gay pride festivals like Christopher St Day etc?
Adam:  Berlin's annual CSD is a big event and it's always a lot of fun. Plus it's so much more than just the parade. The weekend before there's a big "Strassenfest" with DJs and live music in the streets of Schoneberg plus local organizations put up booths and sell all sorts of things along the street. It feels much more like you're a part of the community at the CSD events like that, rather than the often big, loud and crazy parade! If you do plan to visit for CSD, make sure you book a place to stay earlier rather than later - the city fills up with tourists from all over the world!
MyDBerlin: Why did you love living in Berlin?
Adam:  If you ask many other Berlin expats, you'll hear the same kind of story. This city is infectious — there's an incredible energy and atmosphere that's hard to describe. Berlin is a changing city and, unlike many other big cities, it still feels like anyone can do anything in Berlin. There is so much happening just about every day of the week, it's never boring. The city just has an incredible energy to it and you feel as if you can achieve almost anything.
MyDBerlin:  Is there another city that comes close to Berlin's fabulousness?
Adam:  Oh, tough question! I love cities like London and NYC because they've both got great gay scenes (probably the world's best), but they're also just such big cities they can be overwhelming. Smaller cities that are equally fun and interesting are sometimes a better comparison. I think Tel Aviv has a lot of what Berlin offers and it's another favorite city of mine!
MyDBerlin: You've been blogging for 8 years now, What is the best thing about being a travel blogger?
Adam:  I love the freedom and flexibility of owning my own publication - everything from the initial set-up and day-to-day social media (I'm probably addicted to Twitter and Instagram!) to exciting marketing promotions. I worked in the publishing industry (as a graphic designer) for three years right out of university, but being able to control every step of the process is exciting and scary - that's why I love blogging. The thrill of doing my own thing!
MyDBerlin:  So we've got your top 5 spots listed below, any other hot tips for gay travel in Berlin?
Adam:  Berlin has a lot of great events throughout the year for LGBT tourists. One of my favorite things to do in Berlin during the winter is attending film screenings during the Berlinale Film Festival. But what most people don't know is that the Berlinale runs a LGBT-themed film festival as part of the greater Berlinale festival - the Teddy Awards. It's really great to see LGBT-themed cinema and a lot of the films are top-notch!
Adam has some great information on his blog so make sure you head to Travels of Adam to check it out, especially his Berlin Guide and a pretty impressive Queer map of Berlin.
You can also find him on twitter, facebook or instagram.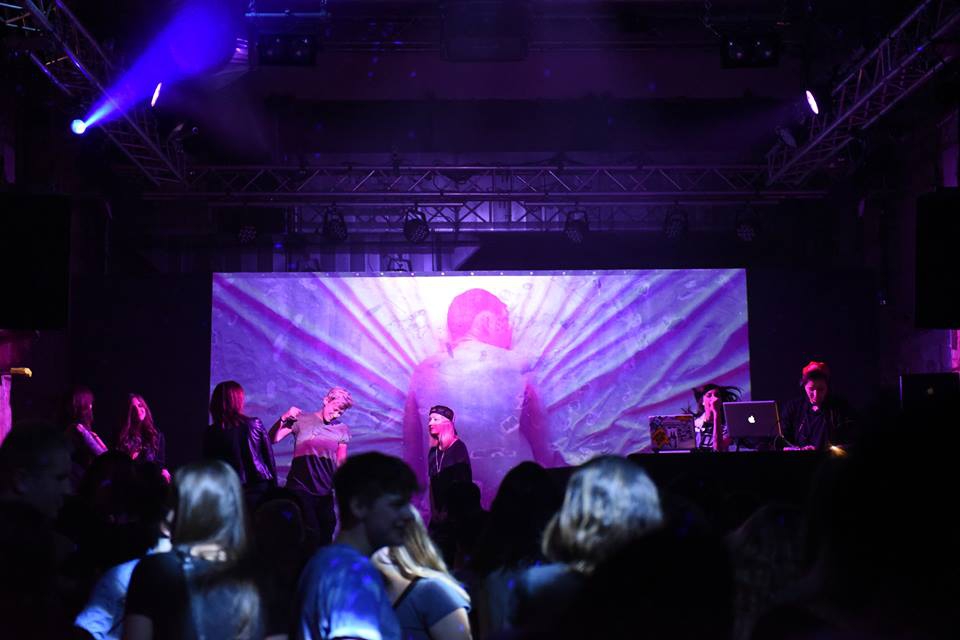 Image Courtesy of schwuz.de
Adam's Top 5 Gay Berlin Locations
SchwuZ
SchwuZ
is one of my favourite Gay clubs in Berlin.  It is located in the new gay neighbourhood of
Neukölln
and is one of the longest-running and most popular clubs in Berlin.  Open from Wednesday to Saturday they do a number of weekly parties with various musical styles, including pop, house, techno, and indie rock. They have 3 dance floors so you can always find some music you like and semi-regular themed nights like the insanely popular "Madonnamania" are a lot of fun!
Silver Future
Silver Future
is a really fun queer bar in
Neukölln
. It's not only a great bar to have a drink and meet others, it also runs lots of activist projects and fantastic regular drag shows, including ones for LGBTQ syrian refugees. Plus, the bar has shots called Pink Brain!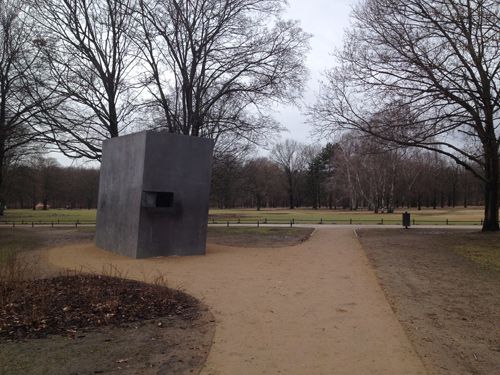 Memorial to the Homosexuals persecuted under Nazism. Image supplied by
travelsofadam.com

Memorial to the Homosexuals persecuted under Nazism
This
memorial
, commissioned by the German government, is the third of its kind in Germany and is symbolic of the country's ongoing commitment to equality as well as honouring the gay and lesbian victims of the Holocaust.  Located in
Tiergarten park
, this simple but powerful memorial is not in every travel guide but is well worth a visit.

Another Country bookshop
Another Country Bookshop
, in 
Schöneberg
, is also known on Facebook as Queer In Another Country Bookshop. This establishment is not only a wonderful second hand English bookshop where you can buy books and even sell back to the shop at a reduced fee when you are done, but a community that host queer events including painting and storytelling, social meetups and film nights.

Bruno's Gay Lifestyle Shop
Bruno's
is gay lifestyle shop at Nollendorfplatz, also in
Schöneberg
.  In this, their flagship store, you'll find a massive range of clothing, with heaps of underwear, sports and clubwear, along with movies, books, magazines, and of course a decent section of condoms, lubes, sex toys and porn.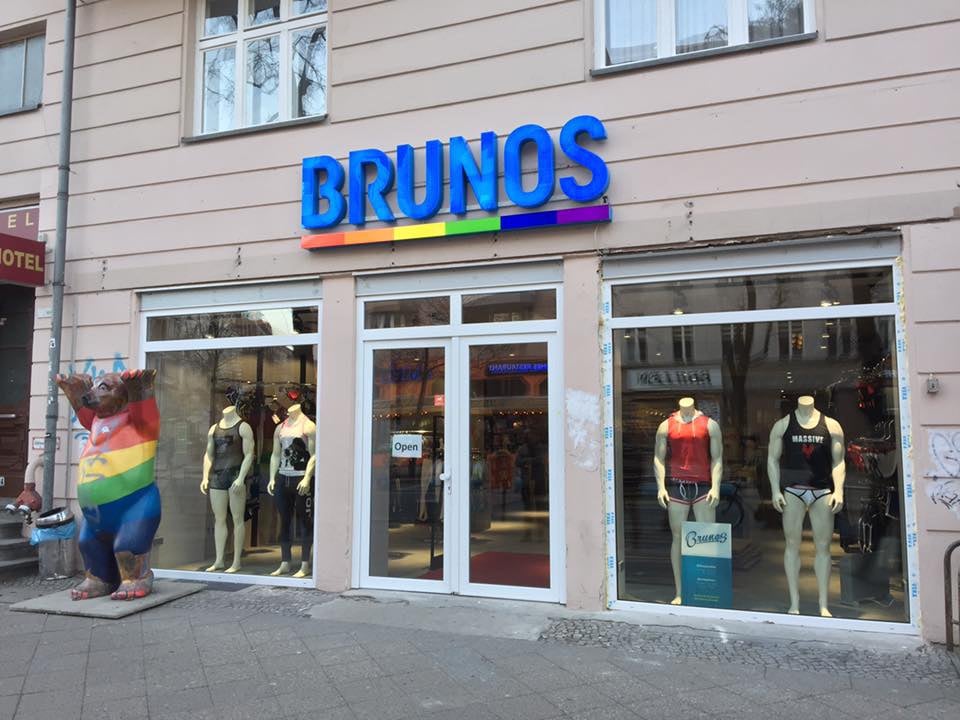 Image courtesy of
brunos.de