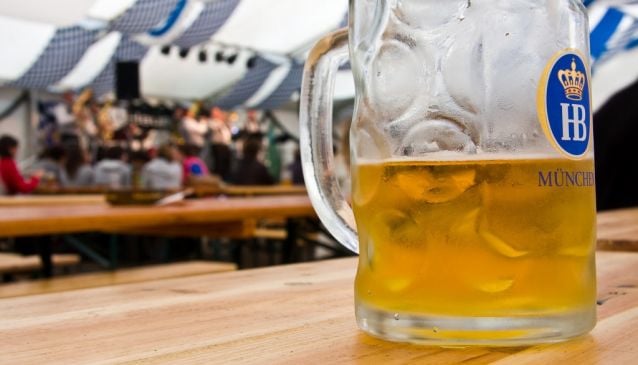 Oktoberfest in Berlin
Family Fun Food & Drink Hot List Parties Seasonal Celebrations
Look for the blue and white for a stein of beer and a large pretzel to enjoy Oktoberfest 2017.
Oktoberfest comes from Munich, which is a city in Bavaria, which is a region of Germany. So it's not so much a 'German' thing as a 'Bavarian' thing and like many other cities around the world, Oktoberfest in Berlin is celebrated in the Bavarian 'style' of beer in giant glasses, busty women in blouses and deliciously salty pretzels. Running for around 16 days from the end of September to the beginning of October, you might be wondering where the best places are to find this carnival of blue and white tablecloths and a lederhosen or two? Well, I'm glad you asked. Here is a run down of some of the great, large, marquee style places to go to celebrate this beer festival in Berlin - the 67th Oktoberfest!
Regarded a family folk festival, this carnival style shindig has lots of fun activities for young and old. Rides and games, live bands and a DJ, but most of all, a ruddy great big tent which is kitted out in the most traditional of Bavarian decorations and sponsored by the traditional Bavarian beer Paulaner, thus it's named the Paulaner Marquee.
Running from 22 September to 15 October 2017, there is free entry, and on 'family day' the carousels and train rides are half price!
Mon, Tue & Thu: 3pm - 10pm
Wed: 3pm - 11pm (FAMILY DAY!)
Fri & Sat: 3pm – 12am
Sun: 12pm - 11pm
Kurt-Schumacher-Damm, 13405 Berlin, Germany
A small entry fee of €2 will get you into the gardens.
Sangerhauser Weg 1, 12349 Berlin, Germany
In addition to the many food stalls selling traditional Bavarian cuisine, you can sit on your blue and white chequered tables whilst you drink a giant beer and take in the surrounds of Alex either outdoor, directly in the square, or inside the marquee where they also have live music. A nice little extra is the nightly the Dirndl competition. The Dirndl is the traditional Bavarian dress for the ladies, not sure what they win….a giant beer perhaps?
26 September - October 12, 2014
Alexanderplatz 3, Mitte, Berlin 10178
You do have to book tickets for these parties, and a lot of tables are reserved months in advance, however, there's always standing tables and a dance floor for those a bit late to the party. And it's worth it, a huge band in a massive tent, lots of beer and guaranteed lots of Dirndls and Lederhosen around for that authentic flavour. Quick, head to the website and click the reserve button, before it's too late!
The blue and white is always king here but for this festival, the Brauhaus puts on all the trimmings with bands, folk dancers, even yodelers! Great for anytime throughout the season and perfect for big groups as it's so large inside. It's a good idea to book in advance so you don't get turned away as this is a pretty popular Oktoberfest party!
9.30am – 11pm daily
Karl-Liebknecht-Straße 30
10178 Berlin
Dress up and come out to the 9th Gaywiesn in Berlin for Oktoberfest. Every Monday night from 6pm you can enjoy the live band, drag queens, and special drag hosts to entertain you and a DJ to dance you late into the evening.
Bavarian food and beer, and lots of happy people from the LGBT community and heaps of fun, right next to Berlin's main train station, this unique event is sure to knock your lederhosen off.
Written by:
Charmaine Kedmenec
PUBLISHED: Aug 25th 2014 | UPDATED: Sep 19th 2017