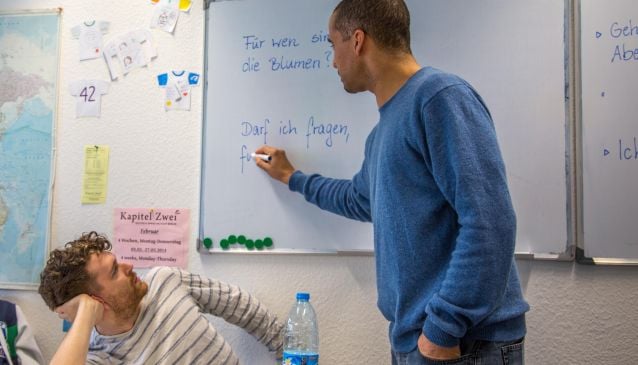 Top 10 Language Schools in Berlin
Hot List Inspiration
There are so many language schools in Berlin that it is sometimes hard to know where to start.
EDIT: This article was updated in October 2018 and all information is accurate as of the time of writing.

Throughout the year, but particularly during summer, Berlin is inundated with hordes of language learners from all corners of the globe who descend on the city to immerse themselves in the German language. Some come for a month's holiday, others plan to work or study in Berlin. They range in ages from 17 to 50 and come from every corner of the globe, some with scholarships and others paying their own way. Many arrive with some prior Deutsch knowledge, others are total beginners. I think this is what I love most about the Berlin language school experience: the diversity.
There are so many language schools in Berlin that it is sometimes hard to know where to start. Prices range dramatically from around €189 per month to more than €1000. With so many options out there I decided to come up with a list of the 10 best language schools in Berlin. Given the wide difference in prices, I have split them into three budget categories and have given my top picks in each price range. I have decided not to rank the schools in order of best to worst. Each of the schools has different strengths and suit different needs, personalities, budgets and learning styles and I would happily do a course at any one of these schools for different reasons.
Across the board, I was really impressed with the quality and dedication of the teachers, and I didn't perceive a difference between the lower and higher priced schools. I did have the impression, however, that among the more expensive schools, the students themselves seemed a bit more focused and their language skills were a bit more advanced than their counterparts in the cheaper schools. My theory on this is that the more expensive schools attract a greater number of longer-term students who are learning German in order to study at university and that this extra incentive, as well as an academic frame of mind, contributes to a more motivated and concerted approach to language learning - but that's just my theory!
Researching this article I visited many of Berlin's Sprachschule, spoke with the director, teachers, and students, toured the school and sat in on a class in order to get the most balanced impression of each school. Important considerations for me when deciding on my top 10 were the quality of teachers, class size, the range of class options available, facilities, student impressions, the convenience of location, as well as extras like cultural programs and accommodation options.
In order to know whether the school is right for you, I recommend contacting them to organise a trial class before you commit to a full month of tuition. For more information on each school check out our
So, without further ado, here are my picks for the Language schools in Berlin...
Low Budget (Under €350 per month for a 4 week intensive)
Four Week Intensive (80 x 45min lessons) = €218
Lively Atmosphere
Cafeteria serving great coffee and snacks as well as an outdoor terrace
Very mixed group of international students with no clear dominant culture.
A mixture of tourists and long-term students
Accommodation is available as well as insurance
Experienced, qualified, native German-speaking teachers
Test DaF preparation and examinations can be taken here
Colourfully painted classrooms will appeal to some while prove distracting for others.
Up to 17 students per class (on the higher side)
Discounts if you book longer
A free test class is offered so you can try out the school before you commit
Four Week Intensive (64 x 45min lessons) = €232
Discount if you bring a friend (€202 per person)
Central location right near Alexanderplatz
Classrooms are bright and well sized
Maximum group size of 11 students
Experienced, qualified, native German-speaking teachers
A big focus in class on oral communication. Grammar exercises and rules are reinforced practically with various role play, small group conversations, and games.
One month Intensive (60 x 45 Min Lessons) = 245 €
A brand new location has been designed in a way that focuses on the needs of the student
Great teachers who create interesting classes rather than a slavish devotion to the textbook
No hidden registration fees, and good discounts the longer you book
Really nice design elements with a mixture of antique and bespoke furniture, creating a warm, inviting atmosphere.
Classrooms also double as a gallery space, with some great pieces adorning the walls.
Intensive, super-intensive, evening and one on one classes available.
Also, offer English classes.
Good location close to really handy transport connections.
Test Center for telc (Twice per month)
Four Week Intensive (64 x 45min lessons) = €300
Small school with a friendly, personal atmosphere.
Intensive German courses offered as well as evening courses in a number of other languages
Small kitchen for tea and coffee
Experienced, qualified, native German-speaking teachers
A range of courses available including intensive, semi-intensive and evening courses
Most language levels covered
Small groups mean plenty of individual attention
A number of other languages are offered
One month intensive (60 x 45 Min Lessons) = 340 €
Great location
Classes consist of a good mixture of communication and written work
All levels offered, with beginner classes starting every month
Students with prior knowledge of German can start any Monday
Class sizes of 6 - 14 students.
Teachers are experienced and qualified native speakers
In addition to German, they also offer courses in dozens of other different languages
They offer an interesting and varied cultural program

Medium Budget (€350 to €650 for a 4 week intensive)
Four Week Intensive (80 x 45min lessons) = €380
All courses are available in both a morning and afternoon session
Experienced, qualified, native German-speaking teachers
Minimum student age of 18 with the average age between 23 and 26.
The school has been running for 30 years and has an outstanding reputation
They have a small and very cute cinema room where classes can watch movies
The maximum class size is 12 students with the average size around 8
Accommodation options are available
In addition to German, they also offer English, Italian, Spanish and French courses
An interesting cultural program is also on offer which is led by teachers
Four Week Intensive (80 x 45min lessons) = €390
Experienced, qualified, native German-speaking teachers
Maximum class size of 10 students (average size around 8)
All course levels are offered at morning and afternoon sessions
A medium sized school with a friendly personal atmosphere
A room with couches and tea/coffee making facilities is available for students.
Accommodation can be organised
A cultural program is offered with 1 or 2 activities per week
In addition to German courses, they also teach Spanish, English, Italian, French and Portuguese.
Four Week Intensive (100 x 45min lessons) = €495
Brand new location with fresh modern design
An academic environment with the main focus being intensive language preparation for students wishing to study in German universities.
Huge classrooms with plenty of light
Experienced, qualified, native German-speaking teachers
Great use of technology with interactive whiteboards in each classroom.
100 tuition hours per month (most other schools offer between 60 and 80)
Interesting and varied cultural, sightseeing and free time program
Accommodation available
Can assist with visa and health insurance issues
inlingua Berlin

Four Week Intensive (80x45 min lessons) = €495
Central location right in the heart of Berlin
An established school with locations all around the world
Class numbers capped at 12 with an average of 6-10
Includes access to the inlingua online learning tool with over 8000 exercises to help improve your language study
In-house cafe on the ground floor serving food and great coffee
Exam preparation available
During the warmer months, a cultural program is offered with 5-6 activities per week
Various accommodation options available
Can assist with visa and insurance issues
Four Week Intensive (80x45min lessons) = €640
Amazing facilities on their 9000m2 campus
Founded in 1983, GLS has a sterling reputation and a long history
On-site studio apartments, restaurant, and cafeteria
Maximum 12 students per class
Certified Test DaF examination centre
Library and Bookstore
Generously sized, bright classrooms
Most classrooms equipped with Smartboards.
An extensive cultural program offered
Offer many other languages in addition to German
Great atmosphere
Wonderful large open green spaces to relax in between classes - very unique!
Experienced qualified native German-speaking teachers.
High Budget (Over €700 for a 4 week intensive)
Four Week Intensive (96+24 x 45min lessons) = €900
An extra 6 hrs per week of "Lernstudio" consisting of individual learning with a tutor, learning in workshops, and learning in projects
Experienced, qualified, native German-speaking teachers
Quiet, good sized classrooms with plenty of natural light
Some classrooms equipped with a built-in projector
Textbooks, ring binder, notepad, and drink bottle included in the course price
Every morning in the break a baker comes to the school with yummy treats
Great location in Berlin Mitte
Student room with computers available
Maximum 15 students per group with 12 participants on average
Discounts available the longer you book
Help with residence permits and health insurance
Accommodation available
Extensive cultural program with museum visits, excursions to neighbouring cities and pub nights.
Four Week Intensive (120 x 45 min Lessons) = €1040
The highest number of lessons of all Berlin Intensive language courses
On-site accommodation in shared or private rooms including full board available
Modern facilities and generously sized classrooms
Central location close to U-Bahn, Tram and S-Bahn connections
No hidden fees for registration or course materials
Rapid progression from through each language level A1 to C2
Cultural program on offer including museum and cultural visits
Great rooftop terrace used for regular events throughout the warmer months.
Written by:
Charlie Kedmenec
PUBLISHED: Nov 10th 2019