Top 10 Beer Gardens in Berlin
Food & Drink
For me, there is no better place to be to take advantage of the Berlin Summer than a Biergarten!
No list of Berlin beer gardens could be considered complete without mentioning arguably the King of them all..... Prater, located on Kastanienalle in the heart of Prenzlauer Berg. Touted as Berlin's oldest Biergarten, beer has been served under the shade of their impressive chestnut trees since 1837. With room for 600, Prater is generous in size, and you can almost always find a place to sit although if you are a large group I'd recommend arriving early. They have a small playground in one corner for the kids and along with their house branded beer (I usually go with the Prater Pils) they do some great food including tasty sausages and steaks. If beer isn't your thing they also have a selection of cakes and pastries and do a serviceable coffee.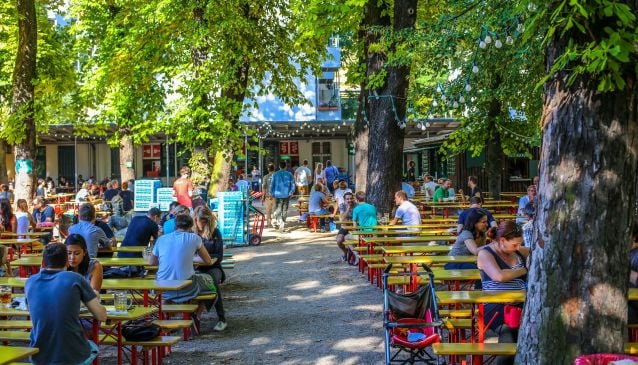 Located in Pankow near the border to Prenzlauer Berg, this relative newcomer to the Berlin Biergarten scene quickly became one of my favourites. Located in the front courtyard of an abandoned brewery on Berliner Straße, Emils has a air of pop-up about it and seems to be mainly frequented by locals rather than the masses of tourists that head to Prater. A great selection of beers, some truly delicious pizzas, as well as a grill make this a great spot to while away the hours. What I also love about Emils is that they have a bunch of deckchairs and proper chairs which my bottom likes a lot better than the standard Bierbank, or bench.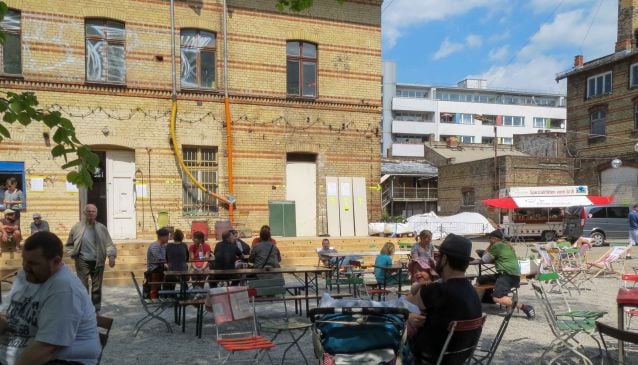 Brauhaus Südstern is a German Brewpub and along with indoor and outdoor street seating also boasts a Biergarten with seating for 140. One of the reasons I love this Biergarten is because of the beer. At Südstern you will find house brewed, unfiltered, unpasturised, cask conditioned beers. They offer a selection of different beers including a light and dark beer and a wheat beer (Helle Stern, Dunkel Stern or Stern Weisse) as well as occasional seasonal or specialty beers. As an added treat, you can also book a tour where the master brewer will take you through the brewing process. Südstern is located at Hasenheide 69 in Kreuzberg and is easy to get to by public transport, but out of the way enough that it is not overrun. Image © Brauhaus Südstern.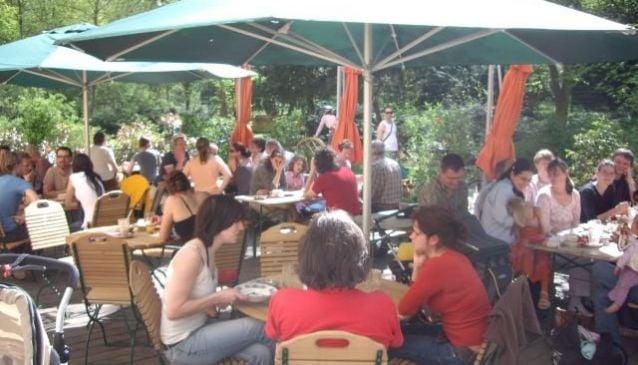 Eschenbräu has developed over the years into somewhat of a Berlin institution. Located in the cellar of an unassuming residential block in Wedding, in summer, the tables spill out into the courtyard with room for 200 to sit under the shade of an impressive oak tree. There is a lot to like about this place, from its unassuming, family friendly vibe, to the fresh, tasty house brewed beer. One thing that makes them extra special though, is that they allow you to bring your own picnic basket – if you order before hand they can even provide you with cutlery! If you can't be bothered preparing your own food, though, they also do a pretty tasty Flammkuchen, also known as Tarte flambée. Here, you will only find house brewed beers, which are unfiltered, unpasteurised and chock full of flavour. There is usually a Pilsner, a dark beer and wheat beer on tap with a selection of seasonal and specialty beers brewed throughout the year. Image © Eschenbräu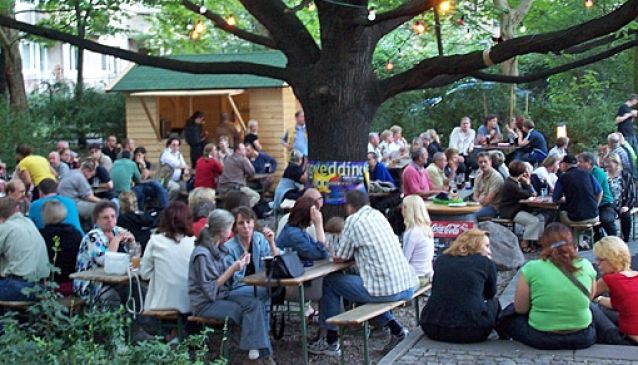 Named for the Schleuse (Sluice/Lock) that it sits next to, this Biergarten is located between the beautiful Tiergarten park and the Zoological Garden. A favourite of locals and visitors, this is the perfect spot to recuperate after a visit to the zoo or a walk around the the Tiergarten. In my humble opinion Schleusenkrug offers one of the most ideallic atmospheres among the Berliner beer gardens with plenty of greenery, access to the canal and a terraced landscape that makes it seem a bit more intimate than it is. Food wise, you can choose between something quick, tasty and reasonably priced from the grill, or something a little more sophisticated from the the restaurant.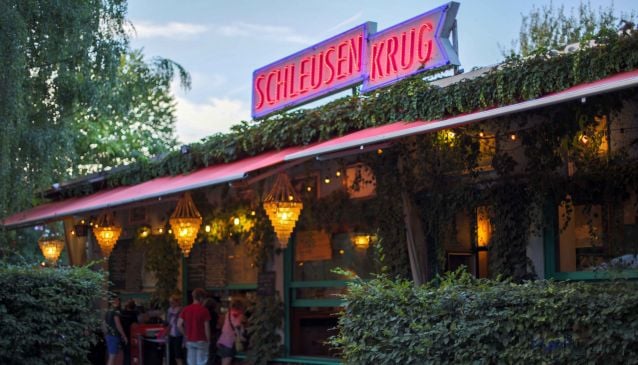 Located not so far from Schleusenkrug, you will find the picturesque Cafe am Neuen See in the South-Western corner of Tiergarten, one of our favourite Berlin city parks.  Here you will find ample seating and a great mix of tasty beer as well as either Bavarian or Italian cuisine.  The have a decent sized sand pit for the kids to play in, keeping them occupied while you can enjoy a refreshing beer.  The definite highlight of Cafe am neuen See, though, is its location:  Nestled along the side of a small lake, ringed with beautiful leafy trees you will forget you are in a big city.  If you are feeling romatic, adventurous, or both, you can hire a rowboat for an hour and head out on the lake for a truly unique and special afternoon.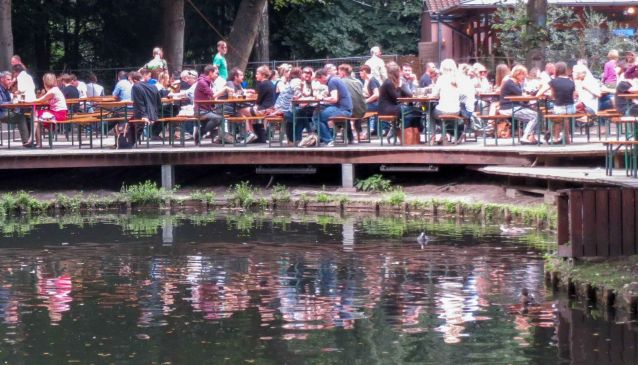 Located in Viktoriapark, a popular park in the Berlin district of Kreuzberg, Golgatha is more than just a beer garden. Open daily from 9am and with no fixed closing time, this great establishment wears many hats. Turn up in the morning, sit in the sun with a coffee and read a book or check your emails with the free wifi on offer or tuck into some breakfast. When the weather plays nice the grill gets fired up from lunchtime and for around 6€ you can be assured of a tasty, filling meal. As the day draws on and the crowd files in it starts to resemble a traditional beer garden and then at 10pm (at least on the weekend) the DJs get started and take it to the wee hours of the morning. Along with the beer garden there is also a rooftop terrace which gives a nice little view out over the park. For those of you with kids, there is a nearby playground and Golgatha also serves ice cream!  Image © Golgatha Berlin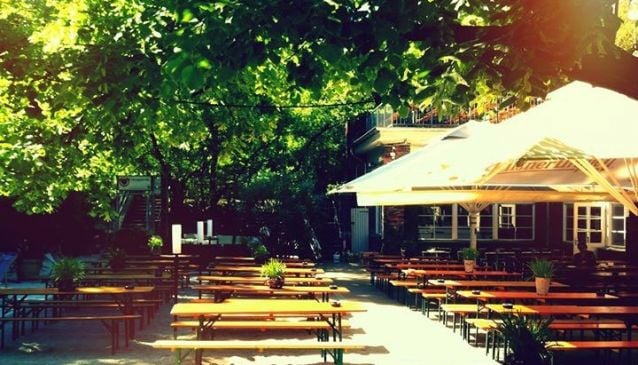 Located alongside the Landwehrkanal in Kreuzberg Brachvogel boasts room in their Biergarten for around 350 guests. With decent prices and a really nice atmosphere Brachvogel offers a calm little oasis in the midst of the bustling city. For a truly delightful way to spend a couple of hours I recommend you grab a beer, sit by the canal and watch the boats travel past for a couple of hours. A perfect location for families, there is a playground for the kids right nearby where you can keep an eye on your offspring while sipping a beer. There is also an 18 hole mini-golf course which has been going since 1959! Beer and mini-golf......a match made in heaven!  Image © Brachvogel Restaurant Betriebs GbR
More Information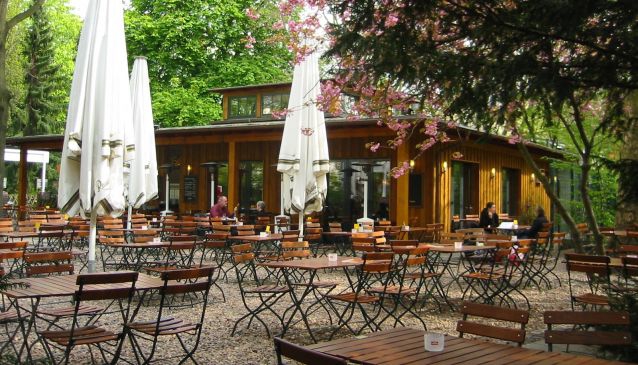 The Jagdhaus is one of my favourite out of town beer gardens. It takes a bit of travel time to get to but is worth the effort. The Jagdhaus, which translates as hunting lodge, is located on the Havel river, practically on the border of Brandenburg. Here you will find great Bavarian beer and hearty Bavarian meals to enjoy in their amply sized biergarten. What I love about the Jagdhaus though, is that it sits directly next to the swimming beach known as the Bürgerablage. I suggesting making a day of it - take a towel and enjoy the water, sun and sand and when you build up an appetite tuck into a Schweinshaxe (Roasted pork knuckle) and a litre of beer. After a meal like this I would advise waiting a while before hitting the water again though!  Image © Jagdhaus Spandau