Nineties Berlin
Editorial
A multimedia exhibition at Alte Münze
Our Top Experiences and Tours in Berlin:
If youʻre booking your trip to Berlin last minute, we have you covered. Below are some of the top tours and experiences!

My Guide Berlin visited the new

Nineties Berlin

exhibition at Alte Münze to see what all the fuss was about and we are happy to the say, it's a well-deserved fuss. Nineties Berlin is one of the best new exhibitions in town. Why? because it's just a little bit different.

There are many Berlin Wall exhibitions or memorial, many of then connected with an aspect of Berlin over the period and each has their own unique way to tell the story. Some of the best we've seen are the

Berlin Wall Memorial Bernauerstrasse

and the

Asisi Panorama

, but Nineties Berlin is not strictly Berlin Wall only, and this is precisely what makes it so unique in the first place.

Berlin in the nineties, the fall of the Wall and how Berlin coped in the decade after its demise, is highlighted here as a journey through music and art. The exhibition itself is a visual feast of colour, music and storytelling. It uses many facets of multimedia, enhancing a more interactive genre of visual storytelling, letting you into the cultural scene which evolved after the Berlin Wall fell in 1989.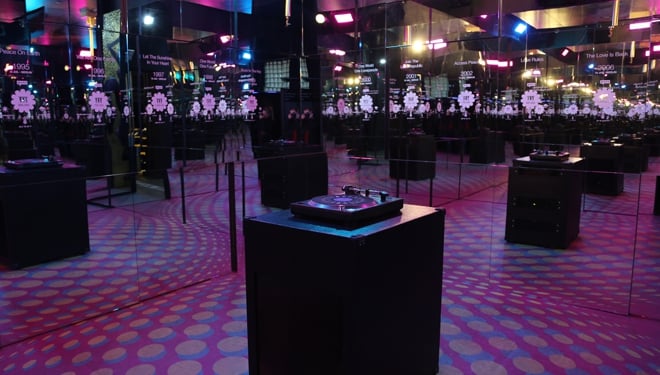 OK, so it's obviously not just a stand and browse kind of deal. Which is nice! Once inside you can open up the Nineties Berlin webpage (using the building's wifi too of course), to open up the
Guide Bot
. This handy little program is not an app, you simply open on the website on your phone to use for free. As you browse the information you can type in the number of what you'd like to learn more about, and ta-da, it pops up so you can read more on your phone, a smooth, hiccup-free information portal at no extra cost. THAT's what we like to hear! You don't HAVE to use the Nineties Berlin Guide Bot as there is information in each room to take you through what's what, but the Guide Bot certainly opens up a greater world of information to you, so you may as well give it a go, and put it away at any time.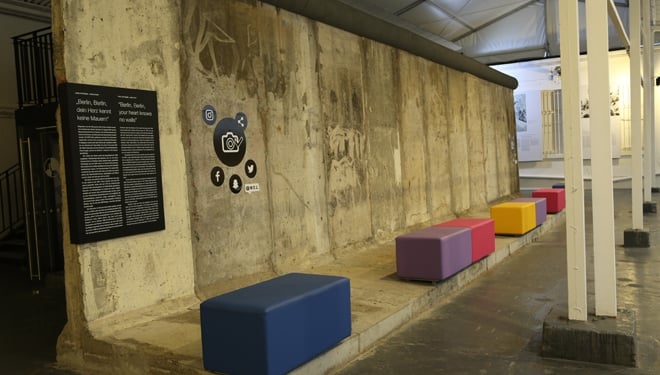 Take your time in each room, the exhibition isn't huge but you can certainly lose yourself inside. The image loop in the first rooms runs on a 17-minute repeat, but its worth watching twice to catch it all, the screen is huge, so take a seat.
A favourite section of ours was the interview room, where you can meet, on screen, many Berliners, men and women who were artists, politicians and rebels living in the city the time over the fall of the Berlin Wall and beyond. After the initial audible onslaught of conversations when you walk into the room, slowly approach each screen and the dialogue will become clearer. Read the subtitles or listen to the audio translation of their stories and you'll find each as fascinating as the last, and don't forget to check out the back of the screens to see what they looked like back in the day, in Berlin.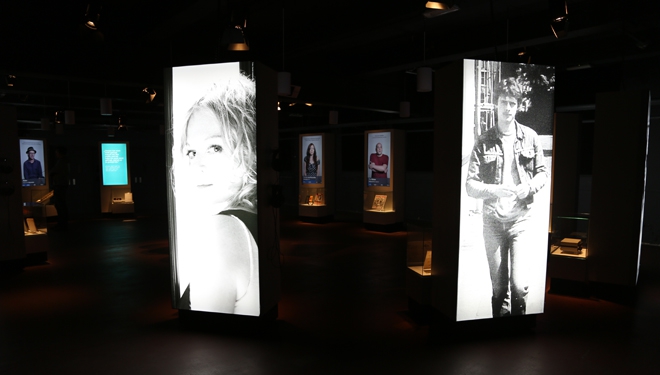 You'll move through the building to learn and see more about the Berlin Wall, a touching, but a chilling memorial to those who lost their lives trying to cross to the west, and original pieces for you to get up close and personal with. On some occasions, you can actually see some Berlin Wall extraction taking place from some large cornerstone pieces. This original Berlin Wall can be taken home as a souvenir, and you know this one is the real deal as it comes directly from the wall piece itself.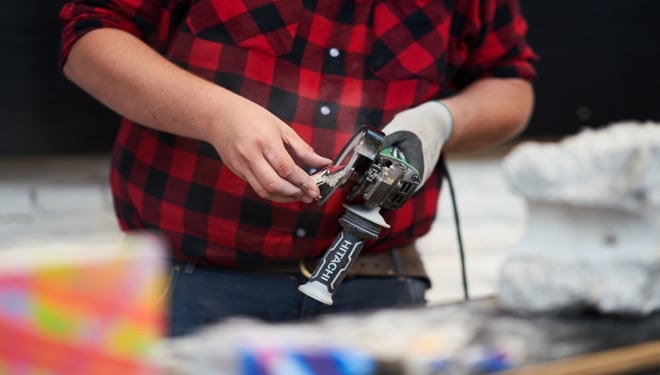 IMAGE: Extracting pieces of the Berlin Wall. Courtesy of Nineties Berlin.
The techno music scene in Berlin in the '90s is something of legend today. Underground clubs, notorious DJ's, wild parties and more. THIS is what Nineties Berlin lets you peek into. A world like you've never known, unless you were there, of course, in that case, you can reminisce as you stroll through the small labyrinth, sampling music samples and images of a time gone by.
You'll pop out through the gift shop, as is custom, and browse until you are done before heading out into
Alexanderplatz
for your next great Berlin adventure.
After first being said to run only until February 2019, we now know that
Nineties Berlin
has been scheduled to run until 2021! This is good news as it means you have more time. Make sure you get to this one, it's not only for techno music fans but all visitors to Berlin interested in life around and after the Wall.