Driving in Berlin
If you are used to driving in cities, Berlin shouldn't prove too challenging.  The road rules are clear and the streets are well signposted.  Berliners generally drive in an orderly manner and obey the road rules.  One thing that you might not be used to is the number of cyclists.  They generally ride on a cycleway that forms part of the footpath, so be sure to look out for them before you make a right-hand turn.
If you are flying into Berlin and plan to stay in the metro area it is really not worth hiring a car.  There is a huge shortage of parking, especially in the centre of Berlin and parking garages can be quite expensive.  You will find it much quicker, cheaper and easier to use Berlin's public transport system or to hire a taxi.
General Road Rules for driving in Germany
Traffic in Germany drives on the right-hand side of the road and passes on the left.
---
Seatbelts must be worn at all times by all passengers.
---
Children under 12 or less than 1.5meters tall may not sit in the front seat unless in an approved child seat.  A safety seat may not be used in the front, however, if there is an active airbag installed.
---
Drivers must have third-party liability insurance and must carry this with them, as well as proof of ownership (registration or rental papers).
---
Motorcyclists must wear helmets and ride with their headlights on at all times.
---
The blood alcohol limit for driving in Germany is 0.05% BAC.  If you have held your license for less than 2 yrs or are under the age of 21 the limit is 0.00%.  In addition, driving with a BAC in excess of 0.03% is illegal if the driver shows changes in driving behaviour. 
---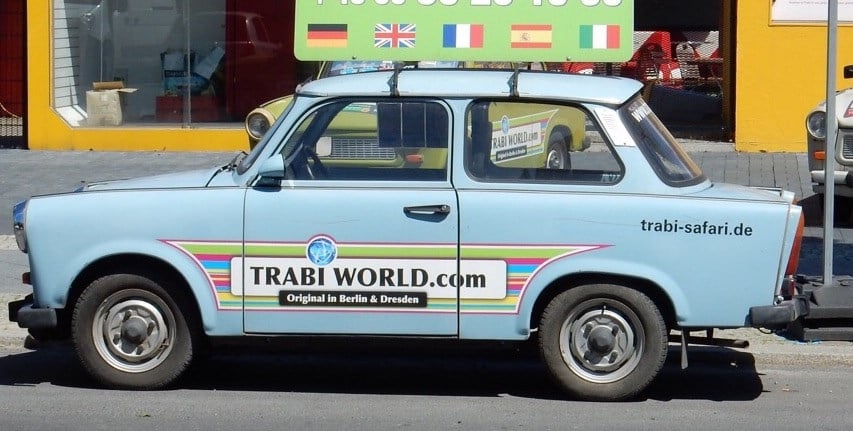 IMAGE: Lindy Buckley
Licence requirements
When driving in Germany you must hold a valid drivers licence from your country of residence.  Officially, it is also a requirement to carry with you a valid translation of your driver's licence.  To avoid problems it is recommended, if you plan on driving whilst on holidays in Berlin, that you obtain an International Driving Permit in your home country prior to departure.  These can be obtained pretty cheaply and can help you to avoid some potential hassle.
If you are planning to move to Germany, the driver's licence issued by your home state is only valid for the first six months.  After this, you will need to apply for a German drivers licence.  Depending on the country or state of issue you may be able to exchange your current licence for a German one (for a fee).  If not, however, you will be required to apply for a new licence and undertake a complete practical and theoretical test, a somewhat costly exercise.  Please contact your local Bezirksamt (local council office) for more detailed information.

HAEDER IMAGE: Conan