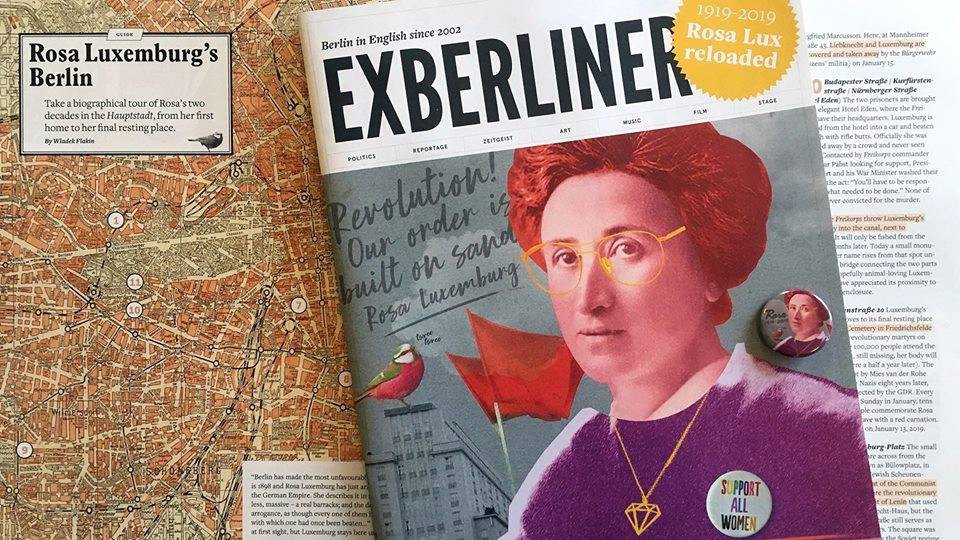 Walking Tour: Rosa Luxemburg's Berlin
Tue Jan 22nd 2019 at 17:30 until 20:00
---
Berlin
,

Mehringplatz,

,

Berlin

,

Kreuzberg
https://www.myguideberlin.com/events/walking-tour-rosa-luxemburgs-berlin
VISIT WEBSITE
Event Details
+++ This is yet another bonus tour after the first three booked out +++

"Berlin has made the most unfavorable impression on me." It is 1898 and Rosa Luxemburg has just arrived in the capital of the German Empire. She describes it in a letter as: "cold, tasteless, massive – a real barracks; and the dear Prussians with their arrogance, as though every one of them had swallowed the cane with which one had once been beaten..." Fair to say it isn't love at first sight, but Luxemburg stays here until the bitter end. Berlin is her home for the next two decades.

On January 15, 1919, Rosa Luxemburg was murdered by proto-fascist paramilitaries, under the orders of the Social Democratic government. On the 100th anniversary of one of the most infamous political assassinations of the 20th century, we are going to take a walking tour through Luxemburg's Berlin. We will visit the places where she lived, worked, wrote and spent time with friends and lovers. We will especially look at spots where Luxemburg worked during the revolution of 1918, and where she went into hiding when the counter-revolution closed in.

Historian Wladek Flakin – who produced the map of Luxemburg's Berlin in the current issue of the magazine Exberliner – will try to give us a feeling for Luxemburg's Berlin.

We will meet in the center of Mehringplatz (U1/ U3 / U6 Hallesches Tor) on Tuesday, January 22, at 17:30. The tour will be in English and take 2.5 hours. We will end before 20:30 at S1 Friedenau. Everyone will need a Berlin AB ticket (please purchase beforehand). We will start in Kreuzberg before traveling to Friedenau and Wilmersdorf.

(If you've already been on the RevolutionaryBerlin Tours about the November Revolution, there will only be a slight overlap at the beginning. Otherwise we will be looking at new locations with new material.)

Please send us a short e-mail (revolutionaryberlin@gmail.com) if you're planning to come, just so we have an overview. Suggested donation is 10 euros per person – which goes to a good, left-wing cause.