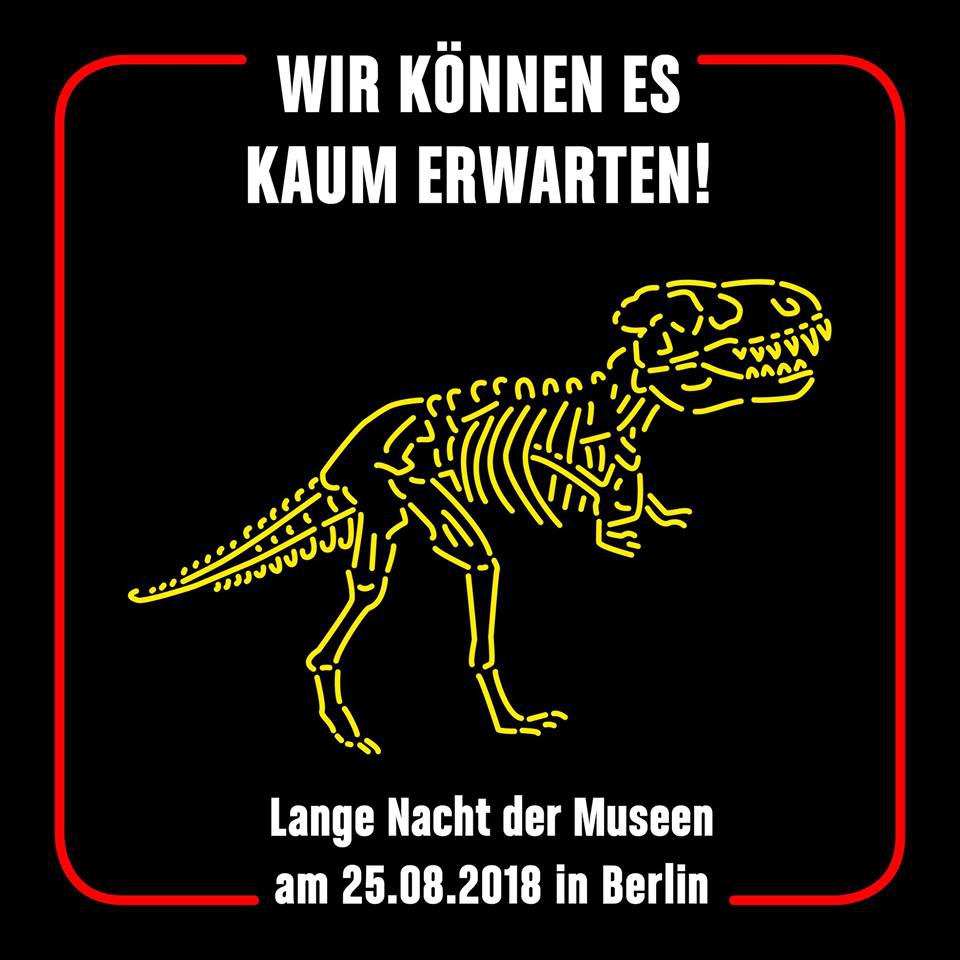 Lange Nacht der Museen 2018
Long Night Of The Museums 2018
Sat Aug 25th 2018 at 18:00
---
Berlin
Berlin
https://www.myguideberlin.com/events/lange-nacht-der-museen-2018
BOOK NOW
Event Details
Ever sipped cocktails surrounded by dinos, tried out a currywurst menu or had a fling on Virtual Reality machines? Or sat in front of a famous painting to draw it? Ever wondered where the smuggled goods were concealed in West packages? Do you have any idea how Berlin's foxes live? Are you familiar with Court etiquette? Ever found and tried all this stuff out in a single night?

The Long Night of Museums is a Berlin original. The museums invented it together with the city's marketing department in the mid-90s, and the very first Long Night in February 1997 drew 6000 visitors to the 18 participating museums. In 2010 a study by the polling company Forsa showed that almost all Berliners (93%) are familiar with the idea of the Long Night. Until 2012 it even took place twice each year, in January and August. In 2017, the museums and more than 32,000 visitors celebrated the anniversary of '20 Years of Long Night' with the title 'Made in Berlin'.
Typical features of the Long Night are its unusual opening hours, until 2 am, the enormous variety of its programmes, the peep it offers behind the scenes of the museums and the personal contacts it affords with museum organisers, and not forgetting the convenient bus shuttle linking the museums together on various routes. Right from the start other cities openly imitated this Berlin invention – a tribute to the huge popularity of the Long Night.

The Long Night has long become a brand. Taking it as a model, Berlin museums have developed their own formats such as the Botanical Night. Around the world some 120 cities now have their Long Nights, including Amsterdam, Buenos Aires and Paris. Other social areas have also successfully adapted the format. In Berlin, well-known spin-offs include the Long Night of the Sciences, the Long Night of Religions and even the Long Day of Urban Nature.

The Long Night of Museums is the climax of the MuseumsSommer, which invites you in 2018 for the fourth time to enjoy open air events in museums all over Berlin in July and August. On 25 August, 80 museums will once be opening their doors for around 800 events. The Long Night of Museums is a joint event by the museums with the state-owned company Kulturprojekte Berlin.

The programme brochure is available in the participating museums from 1 August 2017.

18 euros, with concessions 12 euros, children up to 12 years
have free admission.
Supersaver: Until 7th August just 12 euros,
with concessions 10 euros.