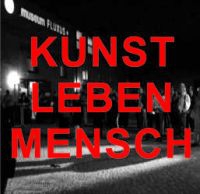 KUNST-LEBEN-MENSCH
ART-LIFE-HUMANS
Wed May 30th 2018 to Sat Oct 13th 2018 at 13:00 until 18:00
---
Berlin
,

Schiffbauergasse 4F,

,

Potsdam

Berlin
https://www.myguideberlin.com/events/kunst-leben-mensch
VISIT WEBSITE
Event Details
The formula ART - LIFE - HUMANS can be applied to any of the very different artists. Their reflections always address the human being in his complex life situations.

The exhibition area of Hella De Santarossa will be expanded to include important aspects of her work. 'Löwenbauten' is a series with photographic snapshots of the changing city of Berlin. Applied to Nessel with up to twelve times more layers of paint, they show documentary and impression, an allusion to the claim to power from business, politics and culture. Portrait painting comes with portraits of the artist and her daughter new in the exhibition.

Costantino Ciervo's novel 'Send Protest' breaks new ground in the world of global networking. The participatory art project consists of an app and a website with an image archive. 'Send Protest' allows anonymous and manipulation-free digital images of grievances in relation to the common good to a database to send. The museum FLUXUS + gives its visitors a view of the current status of this project via a screen on the upper floor of the building.

n the exhibition area of Lutz Friedel a new cycle will be on display. The title is 'human! KLINGER'. The painter, graphic artist and sculptor deals with the work and life of the artist Max Klinger, who died in 1920, and created a multitude of etchings, but also drawings and colored pictures.