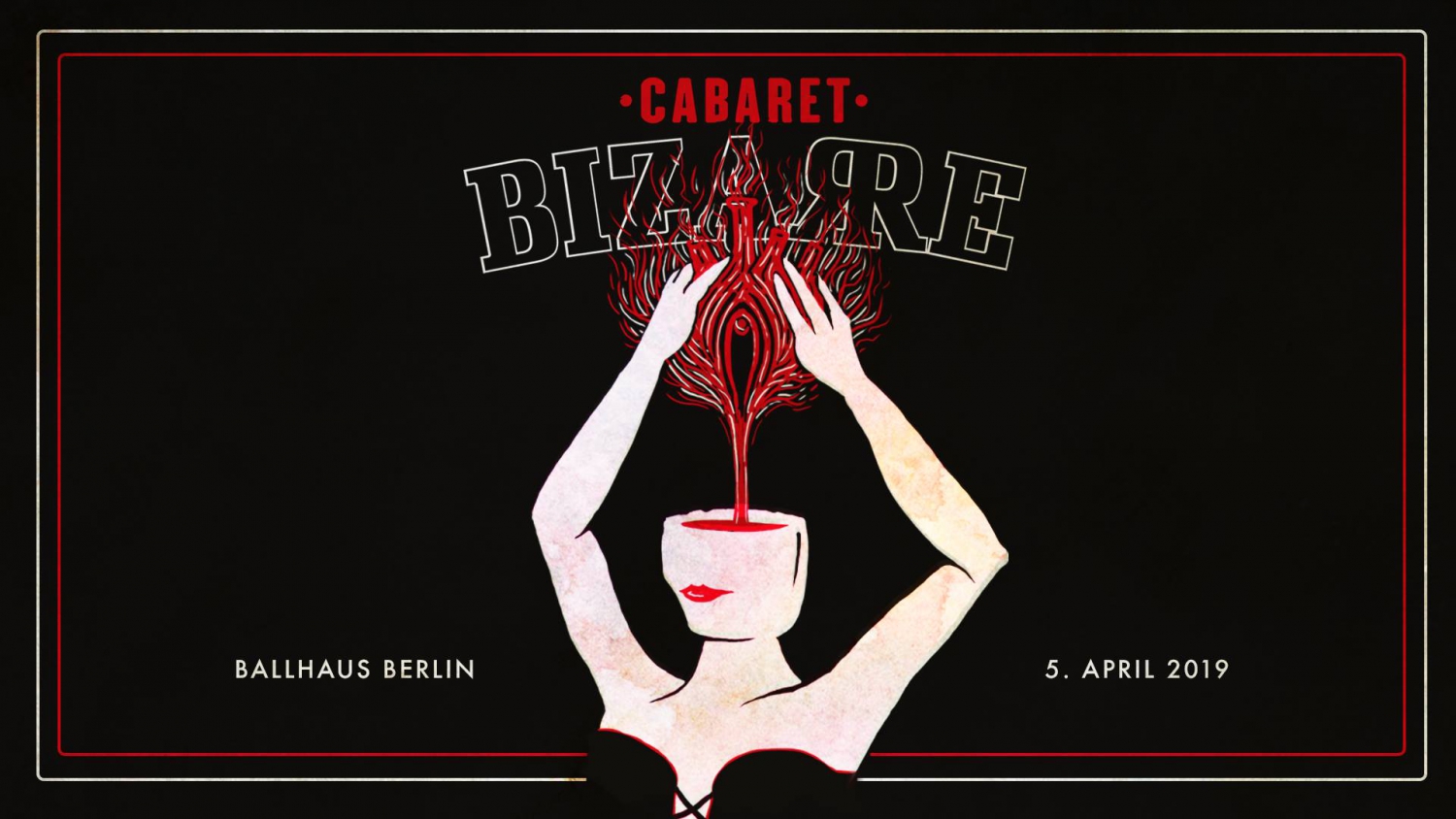 Cabaret Bizarre - Back to Berlin !
Fri Apr 5th 2019 to Sat Apr 6th 2019
---
Berlin
,

Chausseestraße 102,

,

Berlin

,

Mitte
https://www.myguideberlin.com/events/cabaret-bizarre-back-to-berlin
BOOK NOW
Event Details
‣ WHAT : Cabaret Bizarre is a night of decadence, bizarre circus and dark cabaret... Based in Switzerland and active since 2006, we're very happy to come back to Berlin for the second time this April !

‣ WHEN : Friday 5th of April 2019, Doors : 22h, Shows start : 23h [for same event but on Saturday, visit : http://bit.ly/cbsaturday ]
‣ WHERE : Ballhaus Berlin, Chausseestr. 102, 10115 Berlin
‣ PRICE : 25€, VIP ticket : 40€, after show party : 10€

PROGRAM - LIVE ON STAGE :

‣ JOE BLACK (London)
Exquisitely grotesque and melodically demonic; a dark star shining on a perverted planet !

‣ MICHIEL VAN LEEUWEN (Copenhagen)
Insanely entertaining and endearingly insane; your world will never be the same once you've entered his.

‣ DIVINE PUTAIN (Strasbourg)
Fearless, careless but never knowingly painless; art meets madness on the road to oblivion.

‣ NIGHTMARE VANI (Zurich)
A downward spiral of reckless pleasures, your darkest subconscious thoughts could have never imagined…materializes!

‣ MISSY MACABRE (London)
Beware this feisty temptress; although bathed in celestial glory, her bark is as fierce as her bite.

‣ REVERSO (Berlin)
The creation myth of a megalomaniac marred on its own venom: a fetishist cannibal-of-self bound in love, loss, seduction, salvation, madness, prophecy and pain.

‣ PRINZ BASIL (Zurich)
A graceful feline creature, escapes the confines of time and space with spectral aesthetics of the old cinema.

‣ WINTER JAMES (London)
Operative diva, arcane priestess and cabaret matriarch…Let your longing eye wonder into the hidden desires of the soul.

AFTER-SHOW PARTY :

After the shows, get down and dirty with :

‣ DJ BOMB BOUTIQUE (Berlin)
‣ DJ NEUE K & LICIA (Berlin)
‣ DJ FABRICE NOIR (Switzerland)
‣ DJ LORD NEVERMORE (Switzerland)

We've added an aftershow ticket for only 10€, that will be available at the door at about 1:30am. Availability will depend on venue capacity and is not guaranteed.

CONCEPT:
Cabaret Bizarre bids you welcome to its arcane tableau vivant, where the decadent spirit of an immortalized Weimar Republic Cabaret is about to be brought back to life with a very bizarre twist
and unleashed onto its city of birth!

'CALCINATIO' :

The Alchemist is coming with acid, fire and bowl
You feel his magic thrumming…he is here to steal your soul
A morbid fascination for all who do behold
Exquisite calcination will turn their hearts to gold

DRESSCODE : Dress to impress! Absolutely no Casual Street Clothes! No Sneakers!