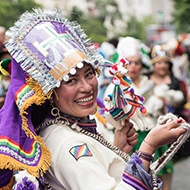 Karneval der Kulturen 2018
Carnival of Cultures 2018
Fri May 18th 2018 to Mon May 21st 2018
---
Berlin
Berlin
https://www.myguideberlin.com/events/karneval-der-kulturen-2018
VISIT WEBSITE
Event Details
With a free and open programme, Karneval celebrates diversity. Music and dance groups, professional and amateurs, children and adults take part in the parade through Kreuzberg. From anarchic performance over traditional dances to mash-up and remix; from high- to popular-, in KdK culture has many meanings.

At the street party stages and the off-stages, world-renowned and up-and-coming bands and artists perform a variety of music styles: from reggae over chanson to classical sitar-music.

KdK is possible because of the various actors of the city. In it, the different communities create a space of self-empowerment. The carnival gives place to a public sphere characterized by heterogeneity, hybrid identities and plurality.

Click here for details of the parade and street party.