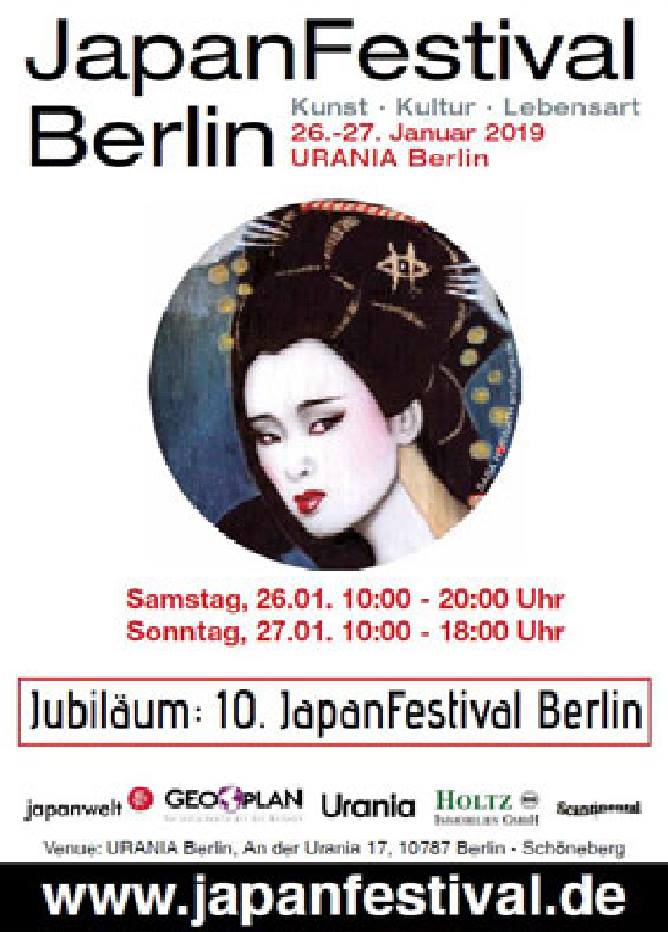 Japanfestival Berlin 2019
Sat Jan 26th 2019 to Sun Jan 27th 2019 at 10:00 until 18:00
---
Berlin
,

An der Urania 17,

,

Berlin

,

Tiergarten
https://www.myguideberlin.com/events/japanfestival-berlin-2019
BOOK NOW
Event Details
10th JapanFestival Berlin in the URANIA

Art, Culture, Lifestyle - Special Guests: Hiroyuki Nakajima & Takarabune
Japan is celebrating an anniversary in Berlin (s): From January 26 to 27, 2019, the 10th JapanFestival Berlin in URANIA will present the artistic and cultural diversity of Japan in the fields of art, culture, lifestyle and tourism.

More than 400 artists, musicians, dancers and actors perform a non-stop live program in 2 concert halls on 2 stages for 36 hours. Special guests are Hiroyuki Nakajima and Takarabune. The calligraphy artist Hiroyuki Nakajima from Chiba Prefecture, together with Holger Mantey, the 'ambassador of the virtuoso piano virtuoso', is celebrating a unique 'brush dance' in which he depicts romantic-meditative and expressive-virtuoso painting on paper rolls measuring 8 x 3 meters to the sounds of the Japanese bamboo flute Shakuhachi by Shakuhachi virtuoso Uwe Walter, who lives near Kyoto, and creates Holger Mantey's piano live on stage At the invitation of the Japanese Embassy, the dance ensemble Takarabune presents the unique traditional Awa Odori dance from Tokushima, paired with lots of power and modern moves.

Other highlights include Taiko Drummers, a traditional kimono presentation with costume scientist and a kimono master, as well as a Gothic Lolita-style fashion show. Japanese dance, martial arts presentations ranging from Aikido, Kendo, Iaido, Karate, Naginata, Ju Tai Jitsu to Sumi-e performances, Ikebana demonstrations, Shamisen and Japanese songs as well as manga-dance-anime-acts.

Over 120 exhibitors provide information and the unique diversity of Japan
More than 120 exhibitors will present 'Japanese' bonsai on four levels, including Japanese tea, sake, kimonos, furniture and home accessories, tourist information from tour operator GEOPLAN, JNTO, the traditional Shiatsu massage, as well as manga, anime and cosplay accessories , Japanese art and design to culinary delights such as sushi, matcha chocolate, pokies, Japanese pastries, Onigirazu, Japanese whiskey and Onigiri. Japan information is available at the stands of the Japanese Embassy and the German-Japanese Society Berlin e.V. There are also hands-on offers for origami folding and go-play.