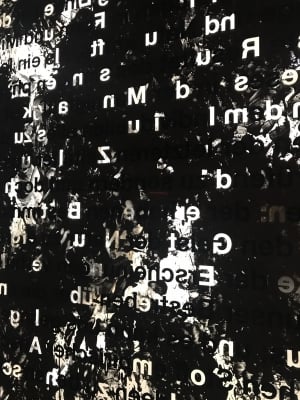 Event Details
Exploring ideas of meaning and the metamorphosis of significance, artists Markus Schaller and Markus Keibel place their existing work in a liminal space in their new digital show 'Dark Data'. Concerned with the disjuncture between images and words, the artists question the idea of
rationality and the destruction of the Enlightenment and the 'new' that emerges in these moments.

Markus Schaller is a contemporary artist who lives and works in Berlin. He received his Master of Fine Arts in 1994 from the Berlin University of the Arts under Professor Rebecca Horn. Since 1993 he has exhibited in private galleries, museums and sculpture gardens worldwide and represented the German arts at the XLVII Venice Biennale and the Vancouver Sculpture Biennale.

Markus Keibel is originally from Stuttgart and lives and works in Berlin. His multimedia works have been exhibited extensively throughout Germany and internationally since 1993. Keibel's work plays on the intricacy of minimalism to explore the questions and concepts of human dynamics.

Hotel Alexander Plaza is located right in the heart of Berlin at Alexanderplatz in Mitte. The beautiful building has a unique and memorable facade and has recently undergone renovation to bring a modern feel to its historic Berlin Altbau interior design. This is the first exhibition to take place at the hotel.