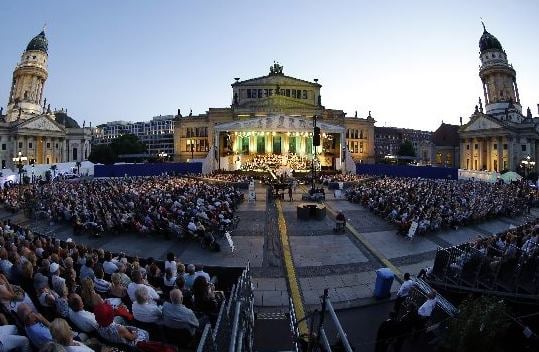 Classic Open Air Gendarmenmarkt 2018
Thu Jul 5th 2018 to Mon Jul 9th 2018 at 19:30
---
,

Berlin

,

Mitte
https://www.myguideberlin.com/events/classic-open-air-gendarmenmarkt-2018
---
Gendarmenmarkt
MAKE ENQUIRY
BOOK NOW
Event Details
Experience a musical treat in the unique setting of the Gendarmenmarkt. The Classic Open Air offers a journey through a variety of music genres and epochs and promises a program that offers a special sound experience for every taste.

Organizer & Information: http://www.classicopenair.de/
more open airs and events in summer: Local OpenAir's Berlin

Thursday, 05. July 19.30
First Night - 100 years German Film Orchestra Babelsberg
In cooperation with Rundfunk Berlin-Brandenburg (rbb)

- Big fireworks finale -

The German Film Orchestra Babelsberg does not just look back on a long tradition as a Ufa and DEFA orchestra. Joint productions and concerts with Friedrich Hollaender, Hans Zimmer or Sting, Bryan Adams, Celine Dion, Udo Lindenberg and Xavier Naidoo also show his unique flexibility. Whether classic, rock, pop or film music, the orchestra's range is presented to you in the FIRST NIGHT, where various soloists celebrate the centenary of the orchestra.

Friday, 06. July, 19.30 clock

Wagner in light and fire
Bayreuth flair on the Gendarmenmarkt

Due to strong demand, we decided to launch a re-launch of the successful 2007 car night. Convinced Wagner fans, but also previous non-Wagner connoisseurs were very enthusiastic at the time. The Anhalt Philharmonic Dessau and the Ernst Senff Choir will perform a top-class Wagner program together with outstanding soloists.


Saturday, 07. July, 19.30

Nessun dorma
The Italian opera gala

Rossini, Donizetti, Bellini or Mascagni, Leoncavallo, Puccini and not least Verdi - who does not know the hit composers of the great Italian opera? They wrote immortal melodies and beautiful arias, duets and ensemble scenes, which became export hits as early as the 19th century. Their captivating performances are provided by excellent singers and instrumentalists.

Sunday, July 08, 7.30 pm

Four pianists - a concert
Joja Wendt, Sebastian Knauer, Axel Zwingenberger & Martin Tingvall

Classic meets boogie woogie, jazz and pop music. The 'keystroke' and entertainer Joja Wendt, the 'world champion' in Boogie Woogie Axel Zwingenberger, the jazz and ECHO award winner Martin Tingvall and the classical pianist Sebastian Knauer have already successfully proven that this concept works wonderfully last year. Now follows a reissue of the acclaimed concert.

Monday, July 9, 7:30 pm

Classics of Soul & Funk
Earth, Wind & Fire - Special Guest: Sister Sledge

On the last concert evening we welcome two legendary greats of Soul and Funk: Earth, Wind & Fire and Special Guest Sister Sledge conclude the festival with classics of music history and bring their timeless hits to the stage. Titles such as 'Let's Groove' and 'September' are not just fans of the well-known band Live, Wind & Fire. Experience a rousing stage show and gripping sounds to sing along.