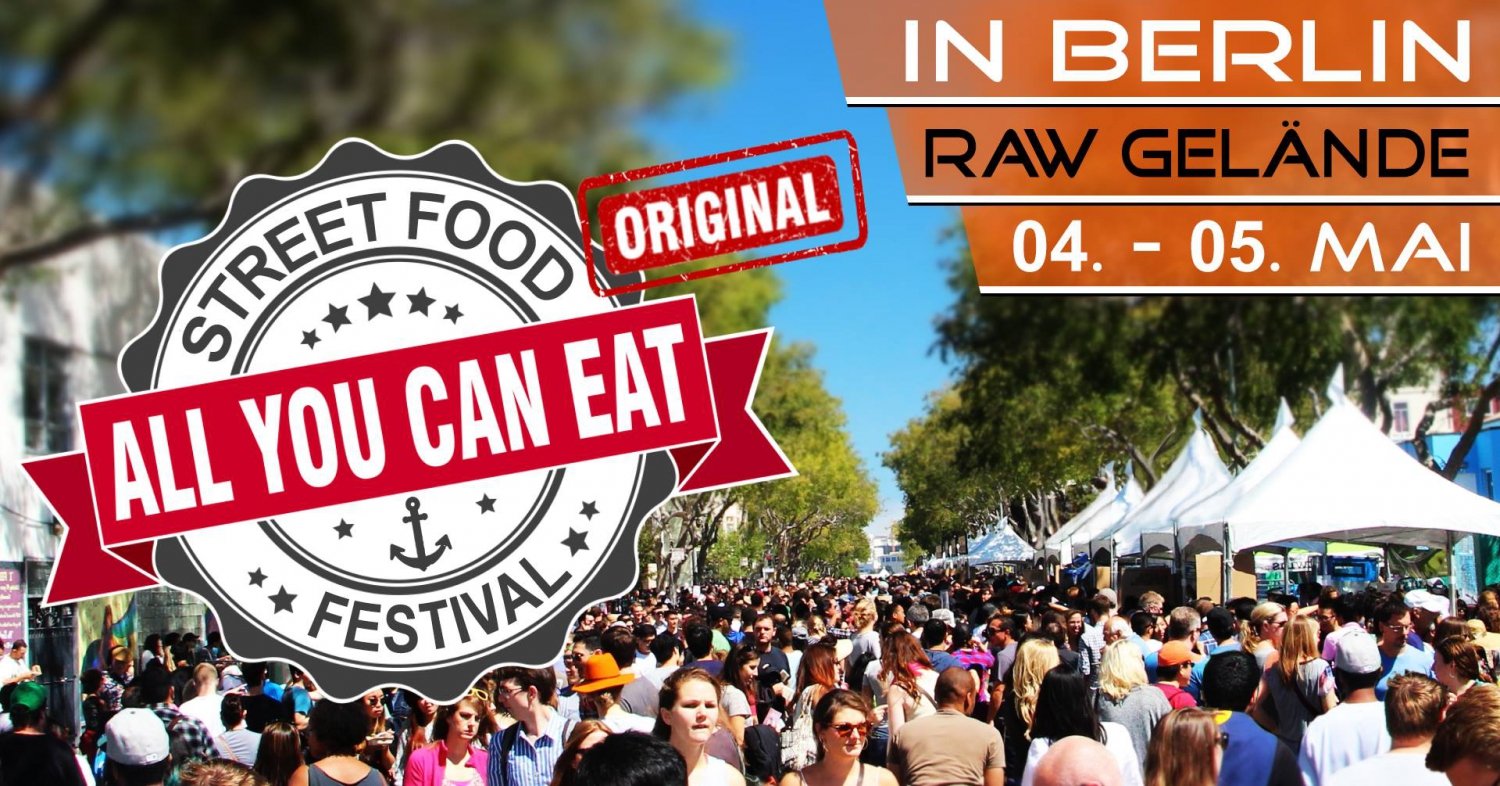 1st - All You Can Eat - Street Food Festival
Sat May 4th 2019 to Sun May 5th 2019 at 12:00
---
Berlin
,

RAW-Gelände Revaler Str. 99,

,

Berlin

,

Friedrichshain
https://www.myguideberlin.com/events/1st-all-you-can-eat-street-food-festival
BOOK NOW
Event Details
1st - ALL YOU CAN EAT - STREET FOOD FESTIVAL
▔▔▔▔▔▔▔▔▔▔▔▔▔▔▔▔▔▔▔▔▔▔▔▔
Try everything and do not have to decide. This is what a visit to the Street Food Festival should look like. Now you have the chance! In Germany's first 'All you can Eat' series you can satisfy your culinary needs at any food truck of your choice.
Our food truckers prepare portions that are not just like a stone in the stomach but leave room for more delicacies. True to the motto 'All you can eat - you can eat it all'.

FOOD TRUCKS
▔▔▔▔▔▔▔▔
✘ All participants will be available shortly


SPECIALS
▔▔▔▔▔▔▔▔
➔ Bouncy castle for children
➔ stage with live music & DJ
➔ Face painting
➔ and much more

500 EARLY BIRD TICKETS
▔▔▔▔▔▔▔▔▔▔▔▔▔▔▔
1-day ticket: 25,00 € * (Limited to 250 pieces.)
2-day ticket: € 50.00 * (limited to 250 pieces.)

* Plus. transaction fee

Order here ➔ https://bit.ly/2Xv0Qb2

Tickets
▔▔▔▔▔▔
1-day ticket: 29.50 € * (limited)
2-day ticket: 56.00 € * (Limited)

* Plus. transaction fee

Order here ➔ https://bit.ly/2Xv0Qb2

FACTS!
▔▔▔▔▔▔
Children under 14 years are free. Here should be presented on demand a document of identification.

Note: Due to the high number of guests, we recommend the purchase of a pre-sale ticket! Although tickets at the box office will not be more expensive, we will limit the number of entries to a certain number so that the food trucks can do what we promise. In addition, we must point out, so it does not come to bulk orders, each visitor may order 2 portions per order. Of course, he is welcome to eat at the food truck again, but he has to do this again.

*This offer is valid while stocks last.